Friday July 8, 2016
The Royal Opera – Verdi's Il trovatore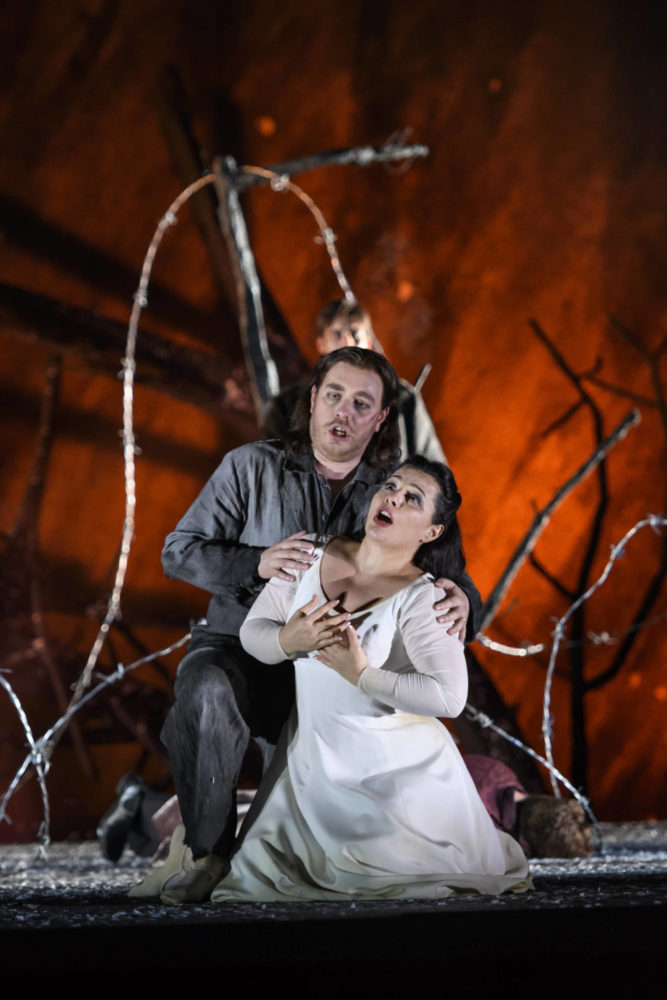 musicOMH
As Leonora, Lianna Haroutounian reveals the most sumptuous yet sensitive soprano in 'Di tale amor' and imbues her pleasingly elegant movement with just the right level of charge.
INDEPENDENT
Armenian soprano Lianna Haroutounian as love interest Leonora has a powerful, agile sound melding beautifully in ensembles and with engaging tenor Francesco Meli as her lover Manrico in the title role. Spellbinding as the obsessive gypsy Azucena is Ekaterina Semenchuk, beautiful throughout her mezzo range, while Serbian Zeljko Lucic's mellifluous baritone triumphs as love rival Count di Luna. Conductor Gianandrea Noseda highlights the opera's hinterland in bel canto, riding the rum-ti-tum moments with aplomb, balancing them with a detailed appreciation of all the tension, passion and lyricism of Verdi's more mature style.
THE ARTS DESK
Lianna Haroutounian has been a real asset to the Royal Opera since she stepped in after Anja Hartetos completed one performance as Elisabetta in Don Carlo. Haroutounian is that rarity, a soprano who can manage both the coloratura and the warm urgency of Leonora's huge, arching phrases. She sometimes sings sharp – chiefly in the Miserere as the heroine responds desperately to her death-sentenced lover's voice somewhere beyond the barbed wire – but that's a fault of generosity where flat notes would be a sign of under-energised delivery.
CLASSICAL SOURCE 
The Royal Opera has cast Il trovatore to the hilt. Lianna Haroutounian is a superlative Leonora. Her gorgeous voice is fluid, technically assured, warm and expressive. She has superb breath-control and mastery of dynamics. She's also brilliant at inflecting the text. Likewise Ekaterina Semenchuk's powerful and intense Azucena; it's a voice that harks back to the great Azucenas of yesteryear such as Simionato, Cossotto and Obraztsova. Thrilling! All you need to know about the character is in the voice – just as it should be.
Read Source